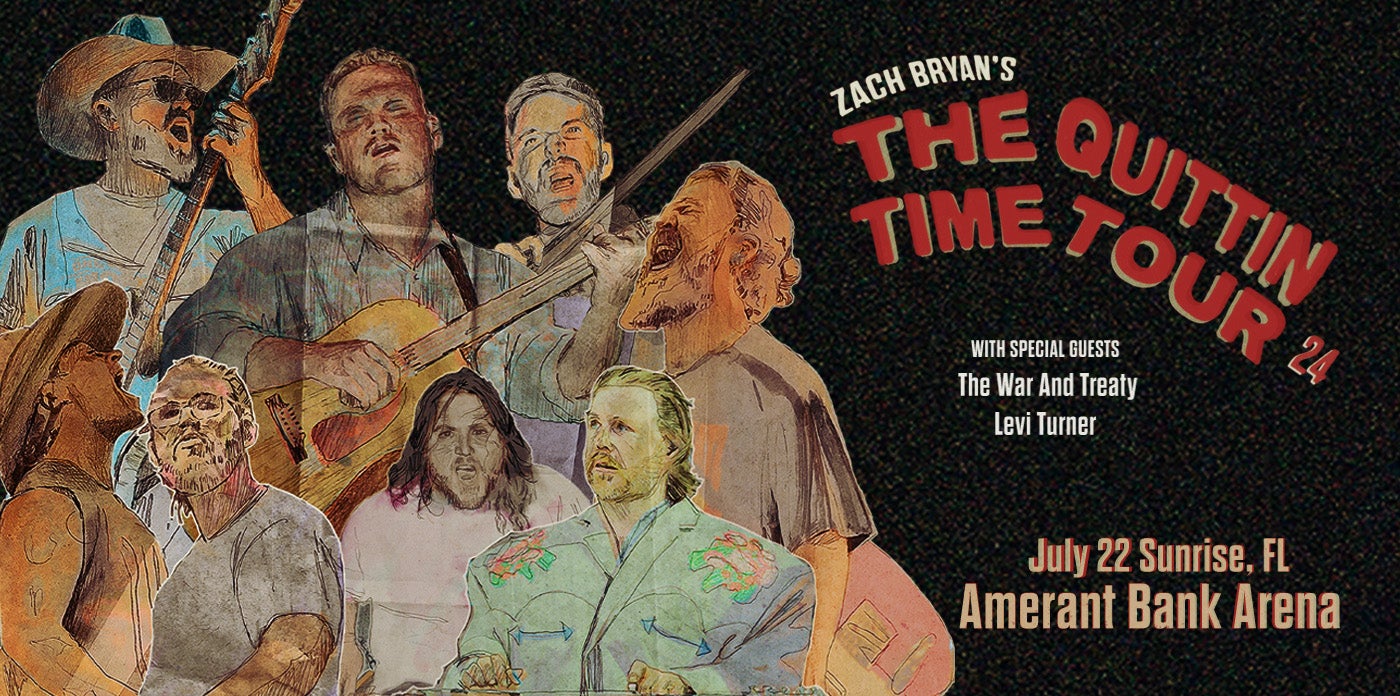 Zach Bryan
The Quittin Time Tour
Zach Bryan
The Quittin Time Tour
Event Info
Grammy-nominated singer-songwriter Zach Bryan is bringing his Quittin Time Tour to Amerant Bank Arena on July 22! With special guests: The War And Treaty & Levi Turner.
Click HERE for artist presale registration.
How to Register for Artist Presale
1. Select your date for presale access.
2. Input your name, phone number and email address.
3. Once submitted, you'll receive a text with a 4-digit verification number. Enter this number to complete your registration. This is NOT your presale code.
4. Before the artist presale begins on Wednesday, October 18th, we'll send a unique code and link to purchase. Presale start times may vary so be sure to check your city's start time in advance.
Arist Presale: Wednesday, 10/18 from 10am-10/19 at 10pm.
Venue Presale: Thursday, 10/19 from 10am-10pm. Use code: ORANGE at SeatGeek.com.
Public on sale: Friday, 10/20 at 10am at SeatGeek.com.
SeatGeek is the new official ticketing partner of Amerant Bank Arena and the Florida Panthers! All Amerant Bank Arena event tickets will now be available on SeatGeek.com.
Amerant Bank Arena Health & Safety Guidelines
Amerant Bank Arena is proud to open its doors for concerts, hockey, family events, meetings and more! Amerant Bank Arena is currently following the latest recommendations from the CDC, City of Sunrise and State of Florida.
Know Before You Go:
Only small clutches 4"x6" and under will be permitted as part of our arena no bag policy.
Face masks are recommended.
We encourage our guests to maintain a safe distance and proper hand-washing and hygiene before, during and after your visit to our building!
Amerant Bank Arena is now a completely cashless experience.
Fan safety is our top priority, click here to view all Amerant Bank Arena Fan Safety Guidelines.
Interested in Premium Seating?
Experience Amerant Bank Arena World Class Shows in the most premier setting in South Florida! Click here to explore the various options we have to offer.
Only small clutches 4"x6" and under will be permitted as part of our arena no bag policy.
Bags slightly larger than 4"x6" required for prescribed medical reasons are permitted.
Baby Bags/Bottles/Formula
Baby bags, plastic bottles, and formula and baby food are permitted into the building but will be subject to a bag search and are tagged upon arrival. Should the bag become an obstruction due to its size, guests may be asked to check the bag into Guest Relations.
Strollers
For all hockey games and concerts/events, strollers will only be permitted if your ticketed seats are in a Suite, Lounge 954 or Corona Beach House. Any other ticketed seat will not be permitted to bring in a stroller.
For Family shows there will be a designated stroller check in area.
Nursing Station
There is a private nursing station located on the 300 level outside sections 310/311. This is available for every game and event at the Amerant Bank Arena.