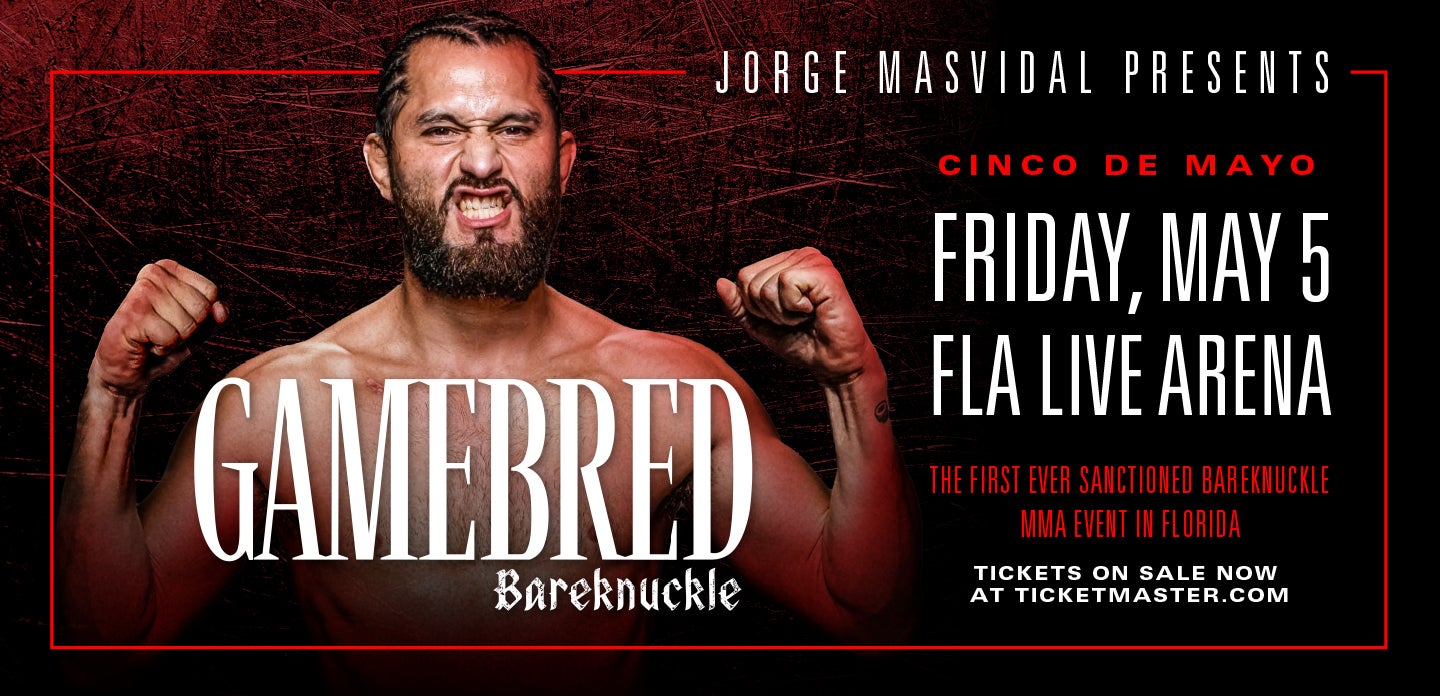 MMA Superstar Jorge Masvidal Announces Gamebred Bareknuckle MMA with Cinco de Mayo Fight Card at Amerant Bank Arena
Apr

27
MMA pros to compete in the only professional bareknuckle MMA league in the U.S.
SUNRISE, Fla. - Recently retired MMA superstar Jorge Masvidal created the first and only professional bareknuckle MMA league in the U.S. and will host the first-ever sanctioned bareknuckle MMA fight in the state of Florida on May 5 – Cinco de Mayo – at Amerant Bank Arena in Sunrise, Fla. The card is headlined by two co-main events, former UFC vet and Bellator Heavyweight star Roy "Big Country" Nelson vs Heavyweight knockout artist Dillon "Bad Boy" Cleckler and former UFC vet and PFL Light Heavyweight World Champion Emiliano "He-Man" Sordi vs. UFC veteran Markus "Maluko" Perez, along with a veritable who's who of professional MMA veteran and up-and-comers from Bellator, PFL, and UFC across the rest of the lineup.
Tickets are on sale through Ticketmaster.com with doors opening at 5 PM ET the day of. Fans will also be able to tune in with the first fight starting at 6 PM ET and the main card beginning at 8 PM ET.
Fights will follow the Unified Rules of MMA with virtually the same rules as other major MMA leagues, but without the gloves. Each fight will consist of three, five minute rounds. The full lineup includes:
Roy Nelson vs. Dillon Cleckler

Emiliano Sordi vs. Markus Perez

Donovan Beard vs. Handesson Ferreira

Joe Penefeil vs Irwin Rivera

Jamahl Tatum vs. Carl Seumanutafa

Sean Soriano vs. Ago Huskic

Anthony Njokuani vs. James Freeman

Darion Abbey vs. Frank Tate

Charles Bennett vs. Keith Speed

Fidel Paulino vs. Alexander Schenk

Juan Alvarez vs. Chris Wingate

Ryan Kuse vs. Drew Morais
"I came up fighting in the streets and backyards of Miami with nothing but my fists, so this is really about me getting back to my roots as a fighter. Putting two competitors in there with no gloves and nothing standing between one another – that to me is pure fighting," said retired MMA superstar and Founder of Gamebred Bareknuckle MMA Jorge Masvidal. "That's what I'm aiming to do with Gamebred Bareknuckle MMA – strip the sport down to its primal essence. And we've got some great fighters on this card. So, tune in on Cinco de Mayo to get a taste of what's to come as we're planning to bring a lot more bareknuckle action in the future."
Gamebred Bareknuckle MMA is the first and only bareknuckle MMA league in the US and will be announcing a number of fight cards in the weeks to come.
###
About Gamebred Bareknuckle MMA
Gamebred Bareknuckle MMA is the first and only professional bareknuckle MMA league in the US. The league draws its inspiration from founder Jorge Masvidal's background fighting bareknuckle in the backyards of Miami before going on to a storied professional career across UFC, Bellator, Strikeforce, Shark Fights, and World Victory Road. He is the UFC's inaugural and only "BMF" Champion, having won the belt at UFC 244, and holds the record for the fastest knockout in UFC history, at 5 seconds.
About Amerant Bank Arena
Florida's premier sports and entertainment venue, Amerant Bank Arena is Florida's largest indoor arena and the second largest sports and entertainment venue in South Florida. Home of the NHL's Florida Panthers, the state-of-the-art Amerant Bank Arena continues to host hundreds of major concerts, events, and performance acts each year, which have included the likes of Elton John, Harry Styles, Beyonce, Lizzo, WWE, Billboard Latin Music Awards and more. In December 2020, Amerant Bank Arena became the first NHL arena to earn the International WELL Building Institute (IWBI)'s prestigious Health-Safety Rating, which serves as the global benchmark for safety in public buildings. Located in Sunrise, Florida across from the Sawgrass Mills Mall, which attracts upwards of 30 million visitors annually, the Broward County-owned Amerant Bank Arena is one of the top-ranked venues of its kind in the world, servicing Broward, Collier, Miami-Dade, Monroe and Palm Beach Counties and beyond. For more information about FLA Live and upcoming events, games, and concerts, visit www.amerantbankarena.com and follow @FlaLiveArena on Twitter, Facebook and Instagram.