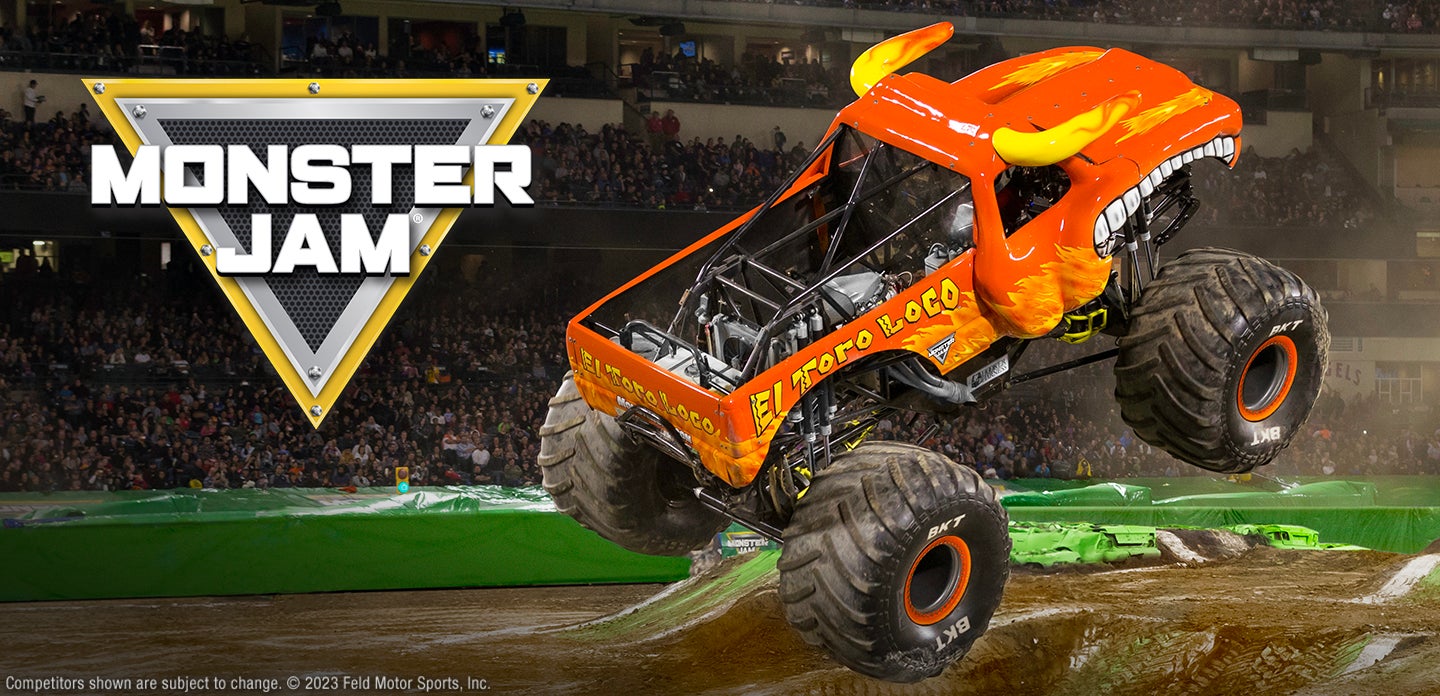 Monster Jam coming to Amerant Bank Arena Aug. 12 & 13!
Apr

27
The most action-packed and full-throttle family fun motorsport in the world roars back into Southeast Florida this summer for three adrenaline-filled events on August 12 & 13 **Truck Lineup includes debut of all-new mechanical beast ThunderROARus**
Sunrise, Fla. – This. Is. Monster Jam™! The most unexpected, unscripted and unforgettable motorsports experience for families and fans in the world today returns to South Florida this summer for an adrenaline-charged weekend at Amerant Bank Arena from Aug. 12 & 13, 2023, unleashing the all-new 2023 debut truck ThunderROARusä. At Monster Jam®, world champion athletes and their 12,000-pound monster trucks tear up the dirt in wide-open competitions of speed and skill.
Monster Jam drivers are trained, world-class male and female athletes who have mastered not only the physical strength and mental stamina needed to compete, but the vital dexterity to control 12,000-pound machines capable of doing backflips, vertical two-wheel skills and racing at speeds up to 70 miles-per-hour to produce jaw-dropping, live motorsports action seen around the world. Monster Jam. As Big As It Gets!™
The excitement begins at the Monster Jam Pit Party fan experience on both Saturday & Sunday. Fans can see the massive trucks up close, meet their favorite drivers and crews, get autographs, take pictures and enjoy other family-friendly activities. New-for-2023 activities include the Sand Box play area, UNOH tire demonstration, coloring & temporary tattoo station, and the chance to take a photo with the Series trophy. This fun-filled experience is the only place that allows people to get up close access to the Monster Jam teams and get an insider's look at how these trucks are built to stand up to the competition. Pit Pass available to purchase for $20 each.
Florida motorsports fans will be on the edge of their seats as world-class drivers show off crazy skills and all-out racing in fierce head-to-head battles for the Event Championship. Engineered to perfection, the 12,000-pound Monster Jam trucks push all limits in Freestyle, Skills and Racing competitions. The Sunrise events feature eight skilled athletes battling for the event championship while tearing up the dirt in intense competitions of speed and skill while putting on a spectacle, constantly innovating and always entertaining.
WHEN: Saturday, August 12, 2023
Event Times: 1:00 PM & 7:00 PM
Pit Party open from 10:30 AM–12:00 PM (Sat. 1pm Event Ticket & Pit Pass required for entry)
Sunday, August 13, 2023
Event Time: 1:00 PM
Pit Party open from 10:30 AM–12:00 PM (Sunday Event Ticket & Pit Pass required for entry)
WHERE: Amerant Bank Arena – One Panther Parkway, Sunrise, FL 33323
TICKETS: Tickets are affordably priced for the whole family! Tickets now available for purchase online at Ticketmaster.com or visit the venue Box Office.
*Ticket prices subject to change – additional venue/ticketing fees may apply
TRUCK LINEUP: Grave Digger® driven by Weston Anderson; Monster Mutt® Dalmatian driven by Jamie Sullivan; El Toro Loco® driven by Elvis Lainez; ThunderROARus™ driven by Tony Ochs; Megalodon® driven by Mikayla Tulachka; Just Ger R Done driven by Brandon Tulachka; Wildside driven by Zack Garner; Overbored driven by Jamey Garner
MEDIA ASSETS: Media can download truck/driver photos and other press materials directly here.
For specific Sunrise local event info, please visit
https://www.monsterjam.com/en-US/events/sunrise-fl/aug-12-2023-aug-13-2023
Follow Monster Jam on our social media channels: Facebook, Twitter, Instagram and TikTok.
Subscribe to the Monster Jam YouTube Channel at http://www.youtube.com/MonsterJam
###
About Monster Jam
Unexpected, unscripted and unforgettable, Monster Jam® features world-class athletes competing for championships on perfectly engineered dirt tracks that push these ever-evolving, state-of-the-art trucks to the limit. Beyond the 350 global live events each year, the Monster Jam brand extends off the track into the home through products, content and merchandise that keeps the fun alive year-round. For more information, visit MonsterJam.com.
About Feld Motor Sports:
Feld Motor Sports, Inc. is the worldwide leader in producing and presenting specialized arena and stadium-based motorsports entertainment. Properties include Monster Jam®, Monster Energy AMA Supercross, and the SuperMotocross World Championship. Feld Motor Sports, Inc. is a subsidiary of Feld Entertainment, Inc. Visit monsterjam.com, SupercrossLIVE.com, and feldentertainment.com for more information.
About Amerant Bank Arena Florida's premier sports and entertainment venue, Amerant Bank Arena is Florida's largest indoor arena and the second largest sports and entertainment venue in South Florida. Home of the NHL's Florida Panthers, the state-of-the-art Amerant Bank Arena continues to host hundreds of major concerts, events, and performance acts each year, which have included the likes of Elton John, Harry Styles, Beyonce, Lizzo, WWE, Billboard Latin Music Awards and more. In December 2020, Amerant Bank Arena became the first NHL arena to earn the International WELL Building Institute (IWBI)'s prestigious Health-Safety Rating, which serves as the global benchmark for safety in public buildings. Located in Sunrise, Florida across from the Sawgrass Mills Mall, which attracts upwards of 30 million visitors annually, the Broward County-owned Amerant Bank Arena is one of the top-ranked venues of its kind in the world, servicing Broward, Collier, Miami-Dade, Monroe and Palm Beach Counties and beyond. For more information about FLA Live and upcoming events, games, and concerts, visit www.amerantbankarena.com and follow @FlaLiveArena on Twitter, Facebook and Instagram.